TRANSFORMATIONS
These are 100% real before and after images of the complexion transformations experienced by using our high-performance skincare products.
With a 12-month money-back guarantee, you have everything to gain and nothing to lose.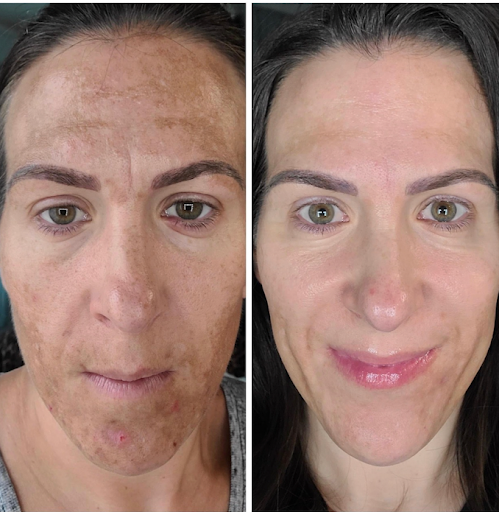 Heather B.
Hollidaysburg, PA
"The only hope I had for my skin from dermatologists was laser treatments and bleach treatment. Then I found
something to improve my melasma, spots, texture, dry skin and wrinkles! I've been able to go out in public without
makeup on. Something I've never done since I was a child."
Tori P.
Craig, CO
"I have struggled with acne and large pores since I was a teenager, and then in my early 20's, also found myself struggling with hyperpigmentation and a mask that seemed to get worse the older I got. Because of this my confidence took a major hit.

Fast forward to my 30's and a year and a half into these products, my skin is the best it's ever been. I rarely get breakouts, the texture is improved, my pores have shrunk and best of all, my hyperpigmentation "mask" has faded so much! I catch myself often looking at my skin in a mirror thinking wow, it really is so much better!"
Heather H.
Gloucester, Virginia  
"I WAS that girl that slept in her make up only to wash my face in the shower now I'm excited to wash my face am/pm! The difference in the texture of my skin is unbelievable! My pores are shrinking and the area around my eyes speaks for itself! 2 weeks y'all! Looking forward to my long-term changes!"
Jeff L.
Rumsey, KY
"I started using the products because my wife used Beauty Society and I see her amazing results. I thought I would give them a try. I work 12-hour shifts so it was hard for me to use the products 2 times a day. On my days off I used them twice daily. I see instant results, especially in my eye area. The products are remarkable, and I recommend them to everyone. Beauty Society is not just for women, men need healthy skin as well."
Tara T.
Dennisville, New Jersey
"I started using Beauty Society about 10 months ago, prior to finding Beauty Society I was using a "customized skin care line/regimen" although I was religiously using this regimen, I was still experiencing hormonal breakouts my sun damage was increasing and the bags under my eyes were hideous. I honestly can't even believe that I took this before picture and saved it! After the first time I used my Beauty Society cleanser and saving face mask I saw tremendous change in my skin, and I knew this was legit! My personal absolute favorite part of my skin care journey has been losing the hormonal breakouts on my chin and having even skin tone, and not having to wear make-up anymore to hide all the imperfections!!!!!"
Shayna Y.
Spokane, Washington
"My skin is bright! It looks healthy, no wrinkles on my forehead. I'm mind blown by how amazing and life changing it's been for me since I started my skin regimen. I've dealt with acne, redness, hyperpigmentation, sensitive skin all my life so this is a relief! I feel comfortable in my skin finally!!"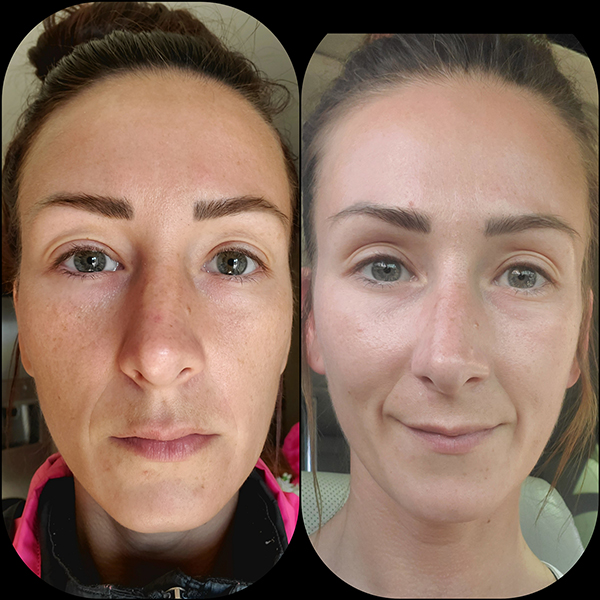 Tasha S.
Hemet, California
"I have always thought I had good skin but never realized how much sun damage I had until I started this skincare line. I'm truly thankful I found this skincare. My skin is refreshed and happy. My breakouts are very minimal, and I absolutely love all the products I'm using. Thank you, Beauty Society, for changing my life with these products."
Tracy E.
Burlington, Wisconsin 
"It took me 61 years to get these wrinkles, fine lines & discoloration, but after just 5 months, I am amazed with my results! Love my under-eye area so much! Immortal Eyes for the Win! Consistency is key and I will continue this skincare journey!"
Betty R.
Stafford, New York
"Yes, it is possible, to feel fresher and look younger. My daughter introduced these products.  I refilled them because they work.  I have always had great skin, but it is brighter and fresh.  As I approach 70, It feels wonderful to put myself first, and take care of me.  The season of me! I feel like I got a promotion in life!"
Robin J.
Harrison Township, Michigan
"I've been a hairdresser and in the beauty business for over 40 years. I've used high-end and low-end products searching for something to help my old face.
I turned 60 this year. And I just feel way younger. How did I get to this age? And my mother kept looking back in the mirror at me. I needed help and was looking for a surgeon. Thank goodness my daughter introduced me to beauty society! The changes are crazy and I'm so grateful for this company and products. They have boosted my self-esteem and gotten me excited for the beauty industry again."
Risa T.
Parkland, Florida
"I've been using these products for almost a year and couldn't be more ecstatic with my results! A confessed product junkie, I've tried just about everything under the sun without any great change…until now! My skin tone, texture, pores, wrinkles and under-eye bags have all dramatically improved. I'm proud to say I'm now 50 & feel like I look younger than before!"
Naoko G.
Honolulu, Hawaii
 "Aloha! My name is Niki. I'm 59 years old mom and grandma living in a beautiful island of Oahu, Hawaii. For many years our family lived in Arizona and now here on the island. Unfortunately, years of being a sun-worshipper has taken a toll on my skin, sun spots, wrinkles, and generally looking dull and tired. I'm so happy that my long-time friend from Arizona introduced me to Beauty Society! I started with a basic routine and started seeing the difference in less than a month. These products are no joke!! My skin looked hydrated, spots were fading, and I just looked healthier! I have added a few more products as time went on (thanks to Beauty Box and cart deals!!) and honestly, my skin looks years younger, and it has definitely boosted my confidence!"
Shalonda M.
Tucson, Arizona
"My skin has never been this healthy!! I am in love with these products. I do not brag enough about them! There was a time I would NEVER show my face without makeup! NEVER!  Story time- I remember waking up early (before anyone else got up!) just so that I can……Well……As my mom used to say…."Put my face on!" It was becoming exhausting! I wouldn't even go to the mailbox without putting my "Face On" I grew tired of hiding my face and wanted to work on my skin! I've seen several dermatologists! I've tried expensive products but nothing worked! So I'm sharing my journey with you all! I've found something that's working! Beauty Society has changed my life! And I am forever grateful!"
Trudy B.
Norwich, New York
"I've been trying to find the answer to my troubled, sensitive skin for years. I've seen dermatologist, used prescription medications, and tried laser treatments and just wasn't getting the results I wanted. Thank you Beauty Society for products that work!"
Cami B.
Pleasanton, California
"Y'all.  Zoom in.
I took the second picture with my ring light, so you could be all up in my bizzz. 
But, seriously. Look at this! The. Results. Are. Mind. Blowing."
Julie H.
Shelby Township, Michigan 
"This skincare line is literally life changing! Having acne as an adult is so challenging and made me so self conscious. I am obsessed with my results and the confidence that has come along with it! I can't say enough about how amazingly everything works and how incredible it feels to finally have clear skin!"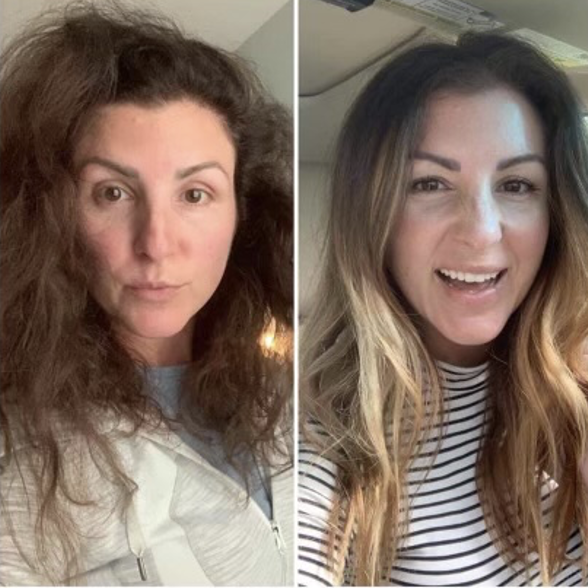 Emily L.
Holland, Michigan 
"Redemption Leave-in Hair Conditioning Spray is an absolute must-have to protect your hair from heat damage and an absolute must for curly-haired girls to get that extra hydration to boost the curls without the frizz! I can't comb through my hair without it."
Jo Anne C.
Tampa, Florida
"For years I carried around a concealer in my purse, I also had one in my glove box because I had to reapply throughout the day. I was so embarrassed by my hereditary dark under eye (packed for Europe as I would call them) bags. If I ran out without concealer, naturally I would run into someone who would tell me I looked tired. The photo on the left was 2017 and the right is 2020, just a few months after using immortal eyes. I no longer wear concealer at all. Even when I wear makeup, which is rare these days. I no longer need it. "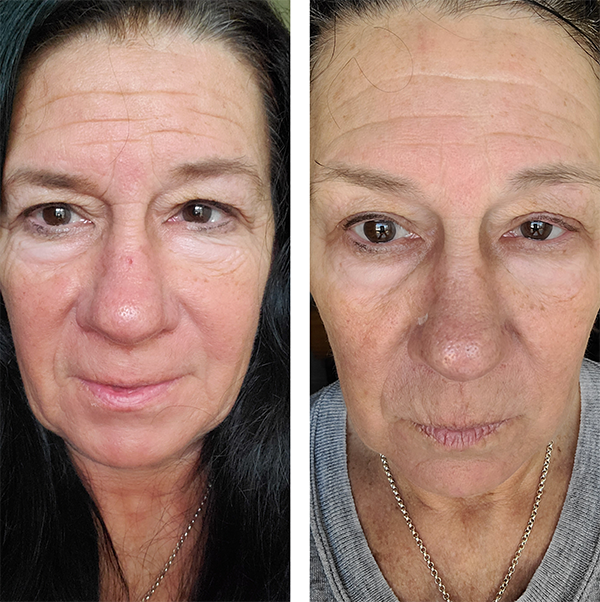 Darlene F.
Gulfport, Mississippi
"After seeing so many people's transformations. I wanted to share what I have noticed.  My line and wrinkles are disappearing my skin tone is less red and oh my goodness my hooded eyes are disappearing.  My skin has never felt so great. I have been asked by many if I had any work done (he he). The answer is NO and then I gladly share what I have been using. Love these products so much!"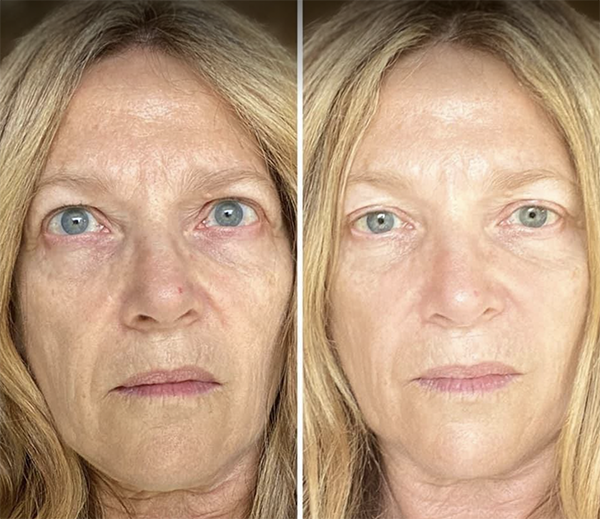 Lois F.
Mercer Island, Washington
"BLOWN AWAY! This is 60! I can't fully express how thrilled I am with my results with my regimen. I was showing more signs of aging than ever before. So, I ordered anything that said anti-aging and would fight wrinkles and help firm! And WOW! It worked! And then some! My skin is firmer, brighter and my wrinkles are almost gone! Nothing worked on the dark circles under my eyes before and the difference in my neck is also huge! These products really do work! I absolutely LOVE them. It takes just a few minutes, and it is totally worth it!"
Corinne M.
Elkhart, Indiana
"About 5 years ago I had a laser procedure to get rid of minor acne scaring. The procedure left me with post inflammatory hyperpigmentation, which left me even more insecure than I was with the acne scaring. I tried so many products to get it to fade, and nothing worked until I discovered these products. Not only have they helped fade the hyperpigmentation, but my fine lines and wrinkles are less noticeable, my pores have shrunk, and my skin has an amazing glow that it didn't have before.  These products truly are life changing and at age 41 I feel better about my skin than I ever have!"
Samantha N.
Seymour, Connecticut
"I have never been a firm believer in skin care until now! I am middle aged, and I wish I started these products years ago. I AM IN LOVE! I started to notice way more fine lines and wrinkles and then I was introduced to our products. I started with the Starter Regimen maturing dry skin and some add ons like Mission Accomplished, Poker Face and Saving Face mask. In only a couple of months I have seen fine lines and wrinkles vanish and my skin tone become clearer as well as even toned. It's truly magical! I am 100% committed to our skincare."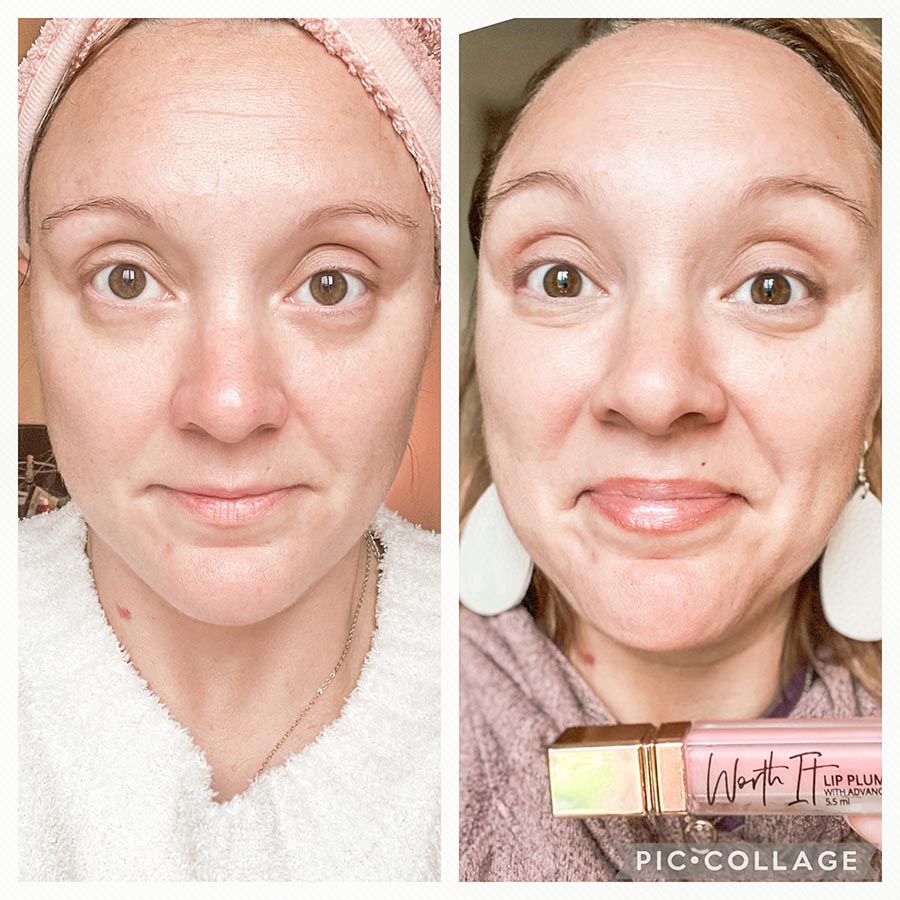 Trina M.
Munhall, Pennsylvania
"I have one of these in my bathroom, bedroom, car and 2 in my purse (1 original and 1 Spellbound). Cause it really is THAT good!"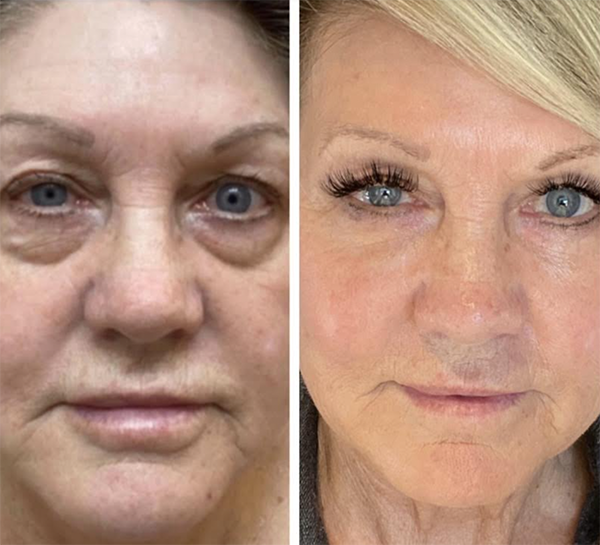 Rosie M.
Huntley, Montana
 "I am so proud to say I'm 64 & feel like I look younger than ever before!  I've been using these products for almost two years and couldn't be more in love with my results! I've tried it all without any great results …until now!  
My skin tone, texture, pores, wrinkles and under baggie bags have all dramatically improved.  This company has boosted my self-esteem and gotten me excited for the beauty industry and I don't feel I need to wear much makeup to cover up my face!"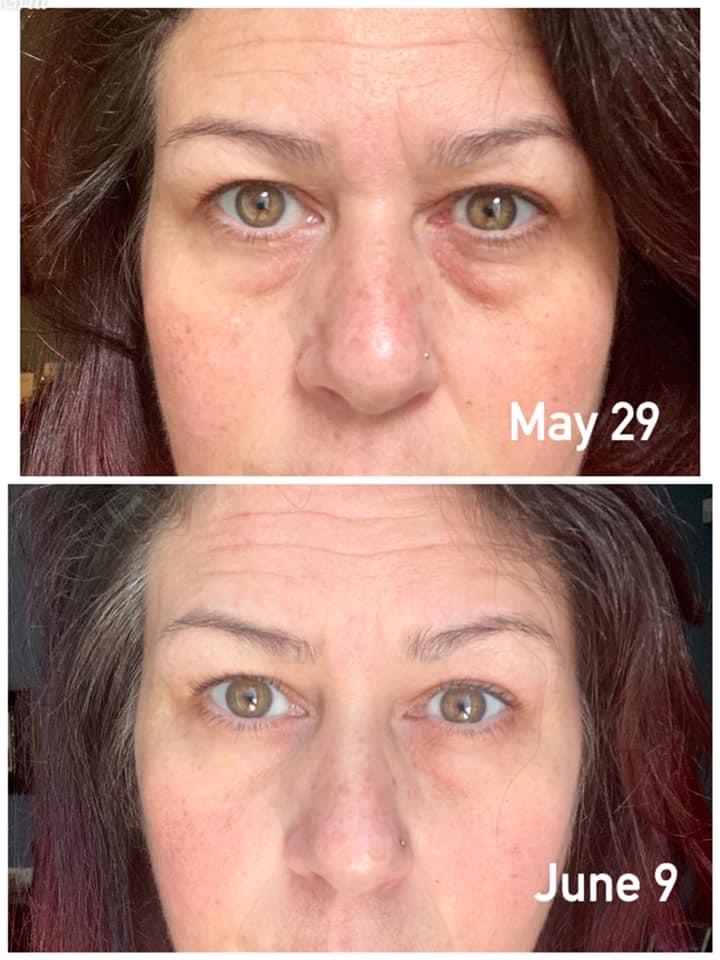 Tanya S.
Lake Worth, Florida
"So let me preface this by saying I'm an esthetician and only use Professional Grade skin care products. I have tried numerous over the counter, DS company and professional products for my severe under-eye issue. I told my sponsor I didn't think anything would work but I would try it. I got the refill of Immortal Eyes in my kit and have used it consistently am & pm for the past 11 days (no other products used) and here are my results.
To say that I'm impressed is an understatement! Love my products, I use them in my professional facial treatments and retail them to my clients!"
Amanda B.
Bonney Lake, Washington
"When I became a mother 5 years ago, my skin took a turn south. I've always had rosacea, but I soon developed eczema, super oily skin, and my pores doubled in size. I used to feel the need to cake on makeup to hide my imperfections. However, my skin has completely transformed in the last year since using my regiment. I no longer feel like I have to wear makeup to cover anything, I tossed my concealer in the trash, and I rock my bare face daily with confidence. I cannot say enough good things about these celebrity grade, high quality, affordable products and I recommend them to every single person that tells me that my skin looks flawless. I even have my son using Beauty Society, I am forever grateful!"
Kaleen C.
Orlando, Florida
"When I started using these products, I was dealing with some bad skin issues. I saw some immediate improvement with the regimen I started. These products have healed my skin and made me a more confident women."
Sandy B.
New Braunfels, Texas
"I was introduced to Beauty Society in May of 2020. I actually sold another skincare line for many years, but I was amazed by how quickly I saw results with Beauty Society. I love every single thing about this skincare line. Within the first month of using the products I noticed, firmer, lifted skin, sun damage was disappearing. My skin looks brighter and healthy! Needless to say, I threw away ALOT of other products, because I'm never using anything else on my face!"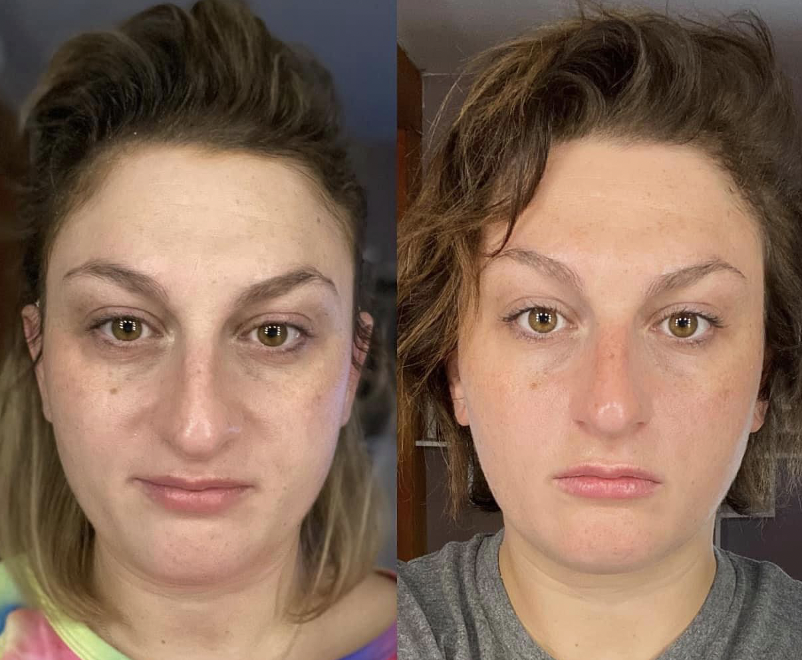 Charissa C.
Tewksbury, Massachusetts
"I was a first time mama with no sleep building up dark circles & uneven skin. I didn't feel pretty and confident. My last skincare was temporary but I needed more than that. After seeing results with Beauty Society, I took a chance. I can't begin to tell you how happy I am to be seeing fast results & finally finding the right products for my skin! The fact I look younger, I don't need that much make up anymore."
Tyler B.
Boca Raton, Florida
From his Mother: "My teenage son has been struggling big time with his acne for a year now. I bought him these products last fall but of course, being a teenage boy, getting to use them was another story lol. In January, he was so sick of it and he decided to just do it. Picture on the left was Jan 2 and the one on the right was yesterday!! SO much better and I can see his confidence soar!! He's using… Set Me Free True Salvation Drama Free Keep It Light Twice a day for those and a few times a week he uses Let's Face It or sometimes just spot treats with it."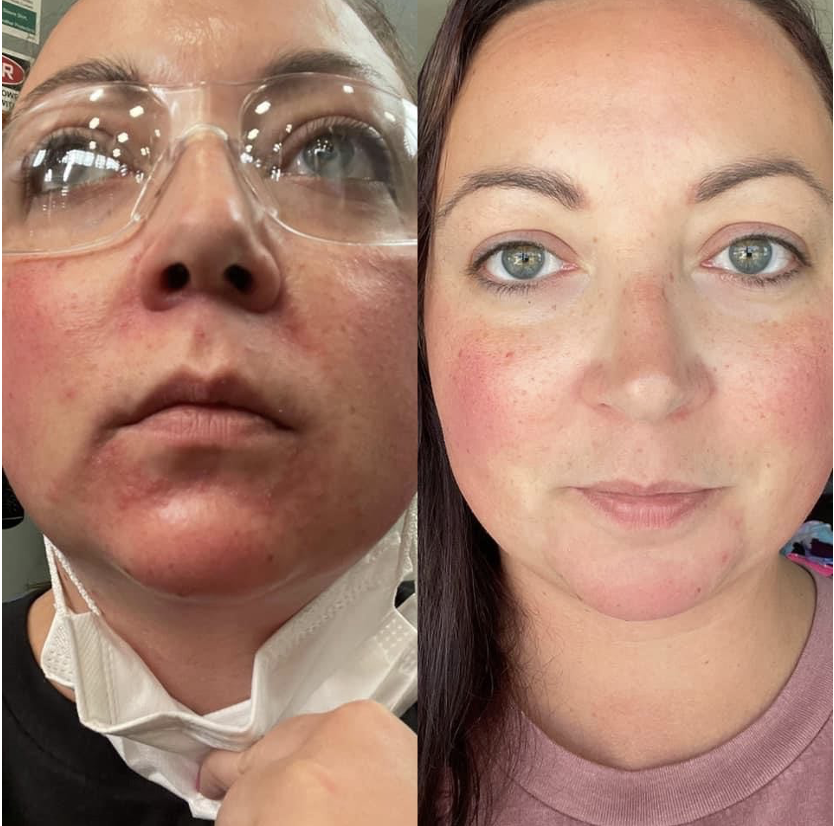 Ashley W.
Bedford, Indiana 
"Due to health reasons and side effects to medicine my skin became inflamed, red and angry. It was so sensitive to the touch. My breakouts wouldn't go away. I was actually grateful to have to wear the face mask to cover up my acne even though it was increasing the "mascne". My confidence tanked. After making some adjustments to my regimen and discovering my absolute favorite product I am happy to say my skin has never been this healthy! It's texture is so soft! My pores are tiny and my breakouts are minimal. My redness has even gone down so much that I don't feel like need to cover up with makeup or a mask! I am beyond grateful."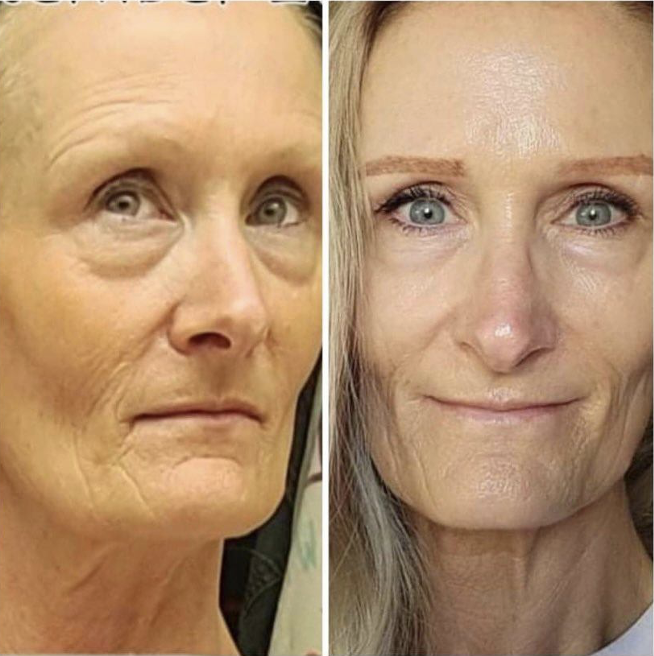 Shawn L.
Fontana, California
"10 months ago I lost my Best Friend, my Mom. I was her caregiver for 8 years. During this time my life was entangled with her care and raising our Granddaughter full time. She is a special needs beautiful 12 year-old today. But I lost myself in this. And looking in the mirror made me very sad, lonely and old. It wasn't me looking back in the mirror. Someone who was looking at my story, she reached out to me. I'm so very Grateful for these products, the community and the LIFE LONG friendships I've made! This is just my start!"
Carolyn M.
Fort Myers, Florida
"I'm Married with 5 children ages 28 to 13. I was previously in Network Marketing for 19 years and was very successful but having a baby in my mid 40's, I gave up home parties to focus on my family. 
I never thought I would want to represent another company, but when I started using my Beauty Society regimen, the results blew me away. I started sharing with my friends and I saw how the products literally sell themselves. In a matter of two months I can't believe the success I have achieved here and the connections I have made.  Women I've never met lifting me up and giving me recognition, excited for my success."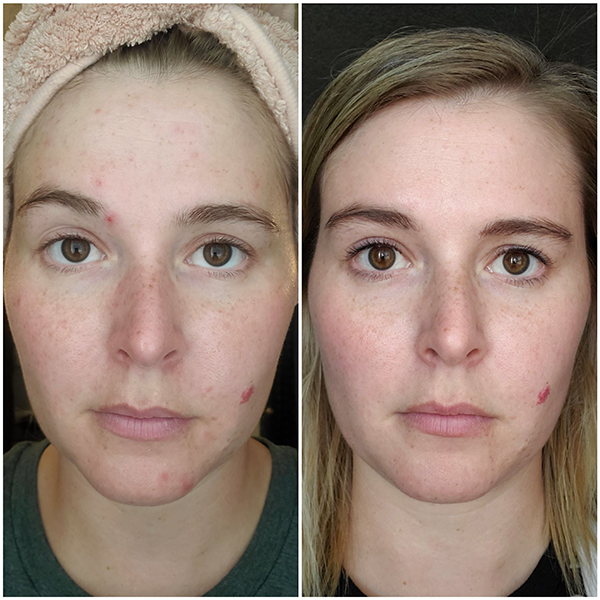 Sarah R.
Sidney, Nebraska
"I have struggled with acne ever since I was in High School and tried everything from the expensive doctor prescribed medication to the cheap over-the-counter cleansers and creams. NOTHING seemed to work, and my acne only got worse! 
 A good friend of mine introduced me to Beauty Society in March of 2020 trying Set Me Free and Saving Face and I fell in LOVE.  It did take some trial and error and a few months to find the right combination, but now my skin is so much healthier and happier! Thanks to Beauty Society I have the confidence to go out in public without the need for foundation!  I will always recommend these products to my family and friends!"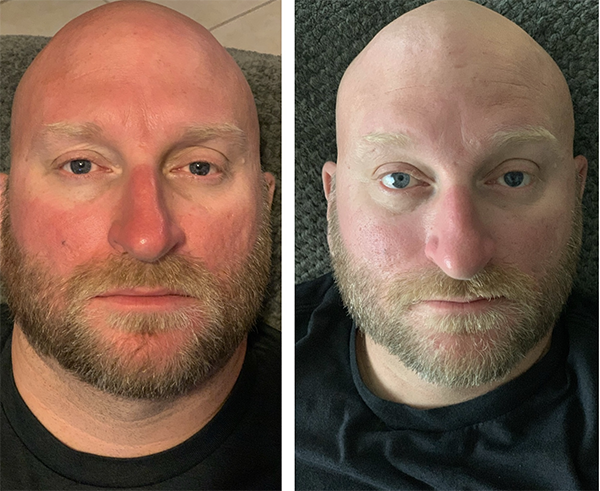 John C.
Tampa, Florida
"We were out on a boat for HOURS & I did NOT reapply sunscreen. When we got home, I was beat red, like a tomato. I applied the Baby, Calm Down mask and let it work its calming magic overnight. Right photo is less than 12 hours later."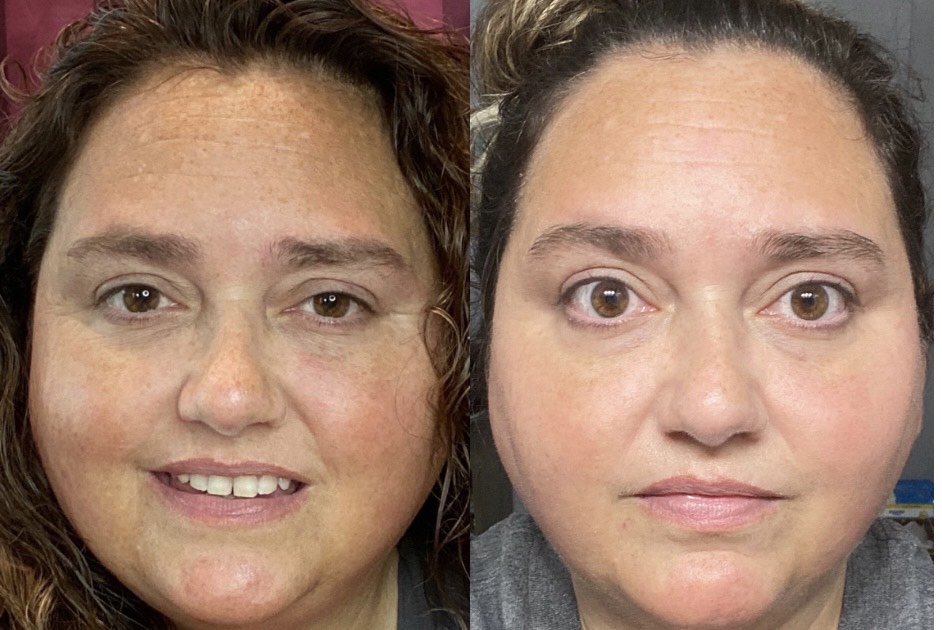 Sharron L.
Rumsey, Kentucky 
"I never really thought a lot about skin care. I would sleep in my makeup. Wash my face with bar soap and water. I also love the sunshine. I thought I had pretty good skin. Once I turned 44, 2 grown children & a grandbaby on the way, I could see the sun damage & fine lines. I found Beauty Society by accident and thought I would give the products a try. It was the best thing I have ever done for my skin and self-confidence. I now get mistaken for my 23-year-old sons' girlfriend. Thank you, Beauty Society, for all the amazing products that changed my reflection."
Brandee S.
Watauga, Texas 
"Fight fight fight, for two years I've been battling with tumors and cancer that seriously impacts my skin texture, color, feel in general. Finding these products could not have happened at a better time. I went from looking Grey and sickly to bright and glowing. You can't even tell I'm sick at this point.
I just was honored with being able to celebrate my 44th birthday!  I'm honored to call myself a National Advisor and I look forward to what the future holds by being a part of this community!"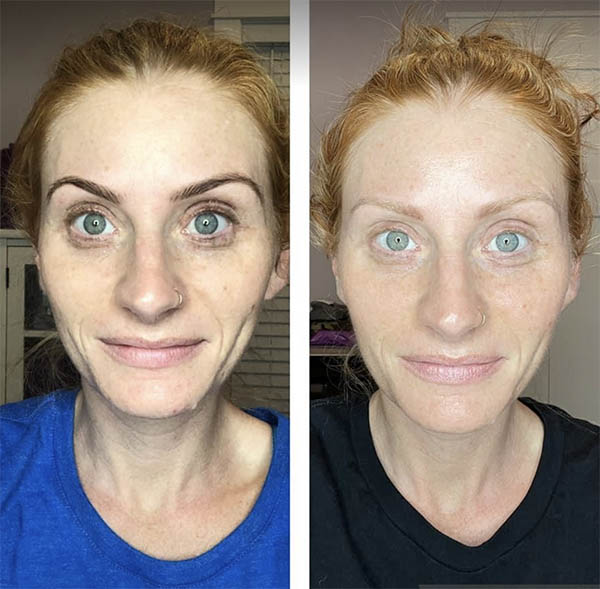 Maria M.
Beacon Falls, Connecticut
"I never thought of my skin as "bad". I don't break out a lot and aside from freckles that I thought were genetic and some wrinkles happening now that I'm 40 I wasn't expecting much change. 4 Months of consistent skincare and my face is GLOWING!"
Ethan M.
Chelsea, Alabama
"Ethan – age 14 – Struggled with bad from acne and sensitivity with Dr. prescriptions. First started with Sensitive skin regimen and True salvation. Now, uses the Acne prone regimen. Very happy confident boy."
Korey E.
Valparaiso, Indiana
"I have suffered from rosacea forever and this is the longest period that my face has been without splotchy angry bumps! I love makeup, but I love that I can CHOOSE when I wear it because I am not using it to cover up, but to express myself. I am forever grateful!"
Kennedy P.
Shelbyville, Indiana
"I'm no longer scared to show my face"
Stephanie K.
Lincoln, California
"I have struggled big-time with severe Melasma, aging, fine lines, dark circles, enlarged pores and peeling dry skin (especially my nose) for over 11 years. I have spent thousands of dollars a year on medical & professional-grade products. I can say, I have NEVER had results like these AND it didn't break the bank!! I feel like I look years younger!"
Jeri Lynn S.
New Braunfels, Texas 
"Sagging neck, dark circles, aging, fine lines and wrinkles, dry and sun damaged skin… I had all these I tried so many different products, treatments, you name it. I spent hundreds of dollars trying to look younger. I still have signs of my age but the difference in my skin in just a year is amazing to me!"
Danielle S.
Colts Neck, New Jersey
"Since having my baby 9 months ago my skin has been such a challenge. Between the hormones, stress, lack of sleep, virtual learning for my older kids, I have struggled with my routine and progress. The overall texture of my skin was rough and thick, and I couldn't figure out which routine was right for me.
So I tweaked and tweaked my regimen and dedicated myself to get back that glowing skin I always had! I refused to be self-conscious about my face! I saw massive improvement once I nailed down my regimen, upped my water intake, and made sure to take the time for myself and be consistent! I did continue to struggle a bit, until Mission Accomplished came in our May Beauty Box. There's a reason this is our gold standard powerhouse rebuild serum. Repairing my DNA and building collagen and the results were noticeable within a few days!!"
Glenda S.
Omaha, Nebraska
"I've been using Beauty Society products for about 18 months and before using them I honestly thought my skin was in good shape. But once I started my regimen I knew it wasn't as good as I had thought but I knew it would be. Consistency and amazing products have given me self-confidence to leave the house almost every day without makeup and when I do wear makeup it's next level because my skin is in so much smoother and my skin tone is more even. I cannot thank Jeannie enough for caring so much about her customers by putting the best ingredients into her products. I'm absolutely in love with my skin!!"
Cheryl B.
Boca Raton, Florida 
 "I'm a Florida native & former sun worshipper who didn't realize the benefits of sunscreen until my 40's. I hated the way my neck and chest looked. These products have reversed years of damage and restored elasticity to my skin. At 49 I feel like look better than I did at 39."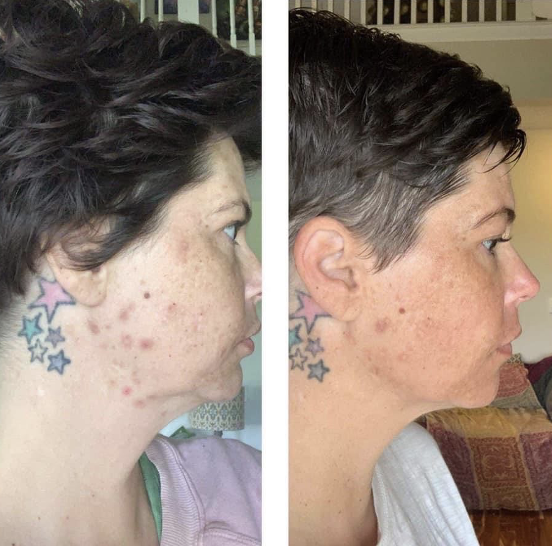 Jayme B.
Shelbyville, Indiana
"I have searched high and low for products like these, spent thousands of dollars trying to cover up my skin, & now because of Beauty Society have confidence to be makeup free!! It's a phenomenal feeling!! Something I wish for everyone!!"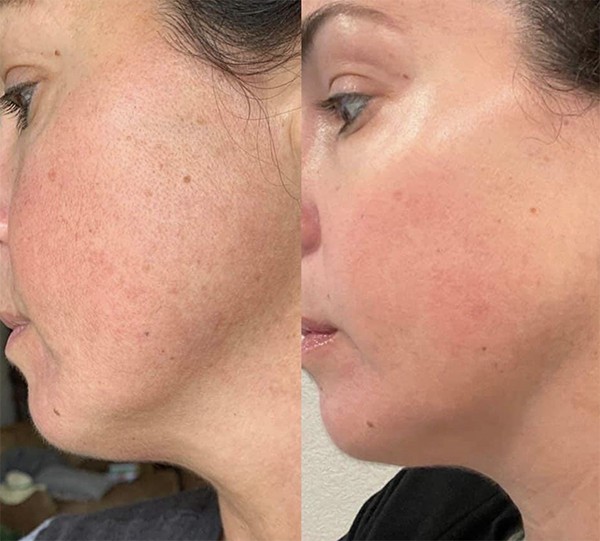 Anita B.
Welsh, Louisiana
"I am so pleased with my 12-week results! And sunscreen is now a part of my daily regimen! I will never let the age spots, sun damage, and discoloration return! I may be getting older, but my skin is getting younger!"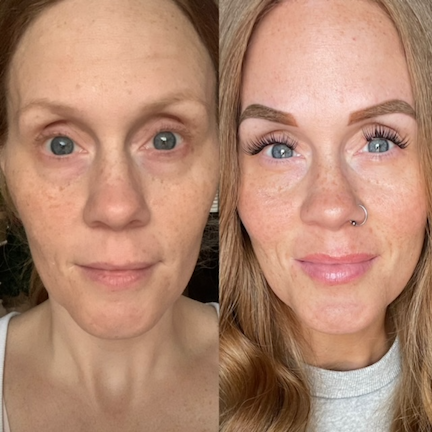 Jaclyn D.
Oklahoma City, Oklahoma 
"Prior to Beauty Society I didn't have terrible or problematic skin. It was a bit dry and slightly dull, but my main issue was the puffy bags under my eyes. I tried everything. Now I am blown away at how my skin overall looks, especially my eyes. I couldn't be happier."
Rachel G.
Louisville, Kentucky 
"Is this real life?!? I'd always struggled with acne, scarring, oily skin. On top of those, I was diagnosed this year with rosacea. Thank goodness I found the best-kept secret in skincare! My skin looks and feels so much better. I showed my dermatologist my results, and she was floored- even she had never seen this much improvement from a skincare line. I could cry, I'm so happy that my "real" face is back!!!"
Malina C.
LaGrange, Kentucky
"I started this regimen July 30th if you know how hyperpigmentation or melasma works, just know my pregnancy (I'm 26 weeks) is fighting these products daily! I think they are winning Zoom in and see the color of the dark spots, it's insane! And I wish you could feel my skin through this post… SO SOFT! The texture of my skin is so impressive."
If you are interested in experiencing these results for yourself, please contact your Beauty Advisor to get started.
Need a Beauty Advisor? Click here to find one in your area!
If Beauty Society products have transformed your life with our powerful formulations, we would be honored to feature you.
If interested, you can submit your Before and After pictures with a small testimonial here!